D. Snodgrass
This week's dose of organic headlines, updates, resources, goodies, and recipes courtesy of dsnodgrass...
---
Via Triplepundit, curiouser and curiouser...
USDA Drops Organic Food Inspector in China
Organic food from China, including frozen vegetables, edemame soybeans, ginger, and tea, have found their way into supermarkets including Trader Joe's and Whole Foods. The packages often sport the "U.S.D.A. Organic" seal, but concern and even outrage over Chinese goods in recent years—from tainted pet food to lead paint—has prompted more retailers, including Whole Foods, to reduce the number of organic products coming from China. Of course, the fact that such produce is hauled long distances, consuming huge quantities of fuel, begs the question whether any benefits that this organic food may offer is negated by the distance it must travel.

Now organic food coming from China has hit another setback. It turns out that Nebraska-based Organic Crop Improvement Association (OCIA), had employees of a Chinese state agency inspect the state controlled-farms, which of course misses the whole point of organic food inspection: independent certification. The USDA responded to the controversy by banning the OCIA from running any food inspections in China—but they can still do so in Canada, Mexico, and any other country that grows organic food for the US market.

Under the USDA's organic food inspection program, third-party, independent inspectors are supposed to conduct the evaluations to avoid any appearance of conflict of interest. The complaints first started circulating as far back as 2007, but the USDA's internal appeals process are so slow that the announcement of OCIA's ban in China did not become official until Monday. Apparently it took over two years for USDA decision makers to realize that having Chinese government employees inspect food marked for export is probably not the wisest idea.
---
Adam Morganstern has a great slideshow at Huffington Post: 8 Secrets About Organic Wine. Click on the image below to watch.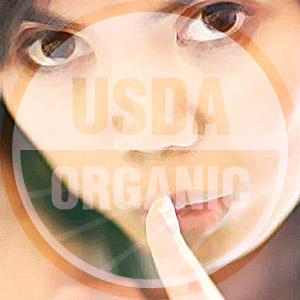 ---
Nature, untethered, at work.
Northwest Farmers Trade Pesticides for Crop-Friendly Bugs
Images of crops teeming with mites, beetles and flies would seem to be the last thing a farmer would want, let alone try to achieve. For a growing number of Washington and Oregon farmers, however, crop-friendly bugs are the preferred eco-friendly solution to destructive weeds and insects.

While the practice of using "beetle banks," mounds of soil used to house a variety of insects, is widely practiced in New Zealand and the United Kingdom, it is only starting to catch on in the U.S. Advocates claim the practice is a sustainable farming technique that provides all the benefits of pesticides without any harmful environmental side effects.

The bug strips are designed to mimic hedgerows and allow beneficial insects, including beetles, wasps, lady bugs, mites and flies, protection from farm equipment and wintery conditions. Insects are able to venture out from the strips to nearby fields and eat weed seeds and plant-damaging pests.

Brad Bailie, an organic farmer in Connell, Wash., said it is too soon for him to quantify how effective the beetle banks are, but noted he has not had any pest outbreaks since he began using them, according to the Tri-City Herald.
---
Biz buzz, emphasis on buzz.
North American Organic-Coffee Demand Rose in 2009, Analyst Says
Imports of organic coffee into the U.S. and Canada exceeded 93 million pounds last year and demand is rising, said market researcher Daniele Giovannucci, citing a survey of 56 retailers and roasters.

The $1.4 billion organic-coffee market expanded by 4.1 percent this past year and an average 21 percent annually for the past five years, compared with estimated 1 percent growth in the "conventional coffee industry," Giovannucci said in a statement on the PRWeb website. Green Mountain Coffee Roasters Inc. was among the companies surveyed, according to Giovannucci.

Coffee is labeled organic when it is grown without toxic fertilizers, pesticides, antibiotics, synthetic hormones and genetic engineering, according to the Organic Trade Association. Organic food is also minimally processed without artificial ingredients, preserves or irradiation, the Greenfield, Massachusetts-based group said.
---
Related Reading:
Promoting the Veg Lifestyle
A Foraged Farmer's Market in San Francisco